TPO Consultant Spotlight: Mary Mason
February 18th, 2014
Written by: Admin
Introducing Mary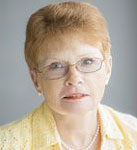 After you meet Mary Mason, you're likely to be ingrained in her brain. She's the type of person who remembers everything about you—your name, your hometown, your children's names and more. And this signature trait is one of the many reasons she builds close, trusted relationships with her clients. Mary began consulting for TPO, Inc. in 2006, bringing a foundation of more than 20 years of experience in government, consulting and nonprofit settings. "I've seen it all," says Mary. "And having worked in numerous industries over the years, I've learned how to handle nearly every aspect of the HR function."
Perfectly Suited
It's easy to understand why Mary enjoys working with TPO's non-profit clients—and why she's so good at it. She has a master's degree in association management with a minor in HR, and her time in the field featured several association and nonprofit stints that serve as the basis of her expertise. This included 15 years with America's Community Bankers (now incorporated into the American Bankers Association) and a multi-faceted role as Director of HR for Gifts In Kind International. Mary credits her educational and professional background as the key reasons she can make connections between a nonprofit's business priorities and people priorities. "I've found that I'm able to bridge the divide that sometimes occurs between organizational strategy and individual staff members' understanding of executive decisions and their intersection with business goals," she says.
Success Through Communication
One of Mary's most rewarding clients is a national association, which she recently helped guide through a change in leadership and some challenging economic factors. "The realities of managing and growing an association during hard times has necessitated a rather dramatic change in the way that the organization operates," says Mary. "Revenue generation is being emphasized, cross functional teams are in place, siloes have been broken down and technology is being improved. And after 25 years of doing things the 'same way,' this change has been refreshing and yet challenging for some staff members." Mary has found communication to be a strategy for success in this environment. By allowing individuals to verbally explore their reactions to the changes, and then sharing with them her understanding of the underlying causes, she is helping them adapt more readily and become stronger contributors to short and long term success.
Why She Loves TPO
Mary is a great fan of working at TPO for a variety of reasons. She adores her clients and relishes the numerous opportunities they offer her to learn, to be helpful and to play a role in their business success. Her job at TPO also affords her a productive work-life balance, with flexible hours and the ability to keep working part time at a job she loves.
Pursuits
Outside of the office, Mary enjoys reading and spending time with her five grandchildren and the latest addition to her family—an eight-month-old great-granddaughter. She also loves international travel. In June 2014, she will visit several northern European capitals, ending her trip with a pilgrimage to St. Petersburg to see the Hermitage. "It will be the fulfillment of a lifelong dream," says Mary.