TPO Consultant Spotlight: Sue Claytor
December 18th, 2013
Written by: Admin
Meet Sue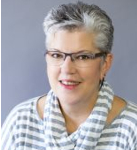 Sue Claytor is a boating enthusiast, a restaurant lover, a consignment shopping queen and the only member of the TPO team with twelve pairs of funky eye glasses. She's also a TPO vice president who applies her 20 plus years of business and HR expertise to the recruiting, onboarding and development of TPO's consultants. "I'm passionate about finding and developing consultants who fit TPO's unique mold—the right mix of business and HR acumen and a desire to be the trusted heart and soul of their client engagements."
From Compliance to Team Building
Sue developed her expertise in HR through the lens of compliance. She learned the ropes from a labor lawyer who took her under his wing 30 years ago—and who remains a TPO strategic partner today. Thanks to the compliance knowledge she developed under his tutelage, Sue is often told she should have been an attorney herself. Sue's other specialty is helping organizations develop strong teams. While she currently performs this task for TPO, some of Sue's fondest memories from her consulting years involve management team development. "Unhappy managers make for unhappy employees," says Sue. "Helping organizations find the right people, construct a great management team and build from there is one of my favorite parts of my job."
Onboarding By the Book
When it comes to onboarding new employees, Sue helps ensure that TPO practices what it preaches to its clients. She's learned that executing an effective and calculated onboarding process takes work. So to guide her efforts, she uses TPO's Onboarding Productivity Measurement Toolkit, a proprietary, research-based resource that builds a bridge between the recruiting process and the time to new employee productivity. "My day-to-day work has really made me appreciate the need for the Onboarding tool we now offer our own clients," she says.
Why She Loves TPO
TPO's commitment to "walking the walk" is paramount to Sue. And by that, she means its focus on tying business priorities to people priorities. She is immensely gratified when she onboards a new consultant who's the right fit for TPO, and for the client organization they are hired to serve. "TPO President and CEO Dana Papke and I work really, really hard to think about the consultants and the clients and to place folks in organizations where we know there will be a good fit for both," she says. "And with many consultants engaged with clients for five or more years, it's rewarding to hear good feedback from happy customers and happy consultants."
The Critter Sitter
Sue is no animal lover, and her adventures in pet sitting are TPO office lore. She was once coaxed into watching a coworker's guinea pig and got more than she bargained for—as well as a collection of amusing stories that had the TPO team rolling. If you meet her, ask Sue for an installment of "The Honeysuckle Chronicles."
Pursuits
In her spare time, Sue looks for every opportunity to spend time on the water sailing or boating, except when there is football on TV—especially her beloved Washington Redskins. In between water and football time she scours the city looking for unique jewelry and clothing and enjoys jazz and trying new restaurants. In fact, she is considered a go-to expert on the best new places to eat and shop. Drawing upon her degree in fashion merchandising, she'll enlighten you on the secrets to never paying retail!