Meet Your Employee Onboarding Robot! (Why the Solution to Proper Onboarding Isn't Just Buying Software)
March 26th, 2014
Written by: Dana Papke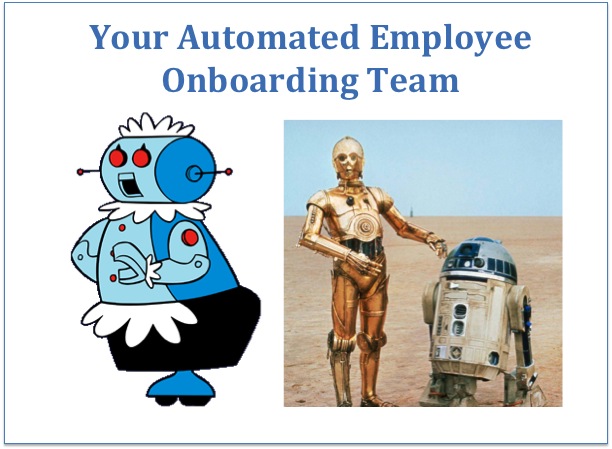 I met someone recently who told me his company has "an HR system that onboards employees." I immediately envisioned a cheerful robot (like The Jetsons' ultra-efficient maid, Rosie, or the lovable R2D2 from Star Wars) that greets new employees and guides them through the halls making robotic introductions to their new co-workers.
Upon returning to the office, I Googled "employee onboarding," (see below) and sure enough the results were filled with software solutions, many of which promise to automate the process of onboarding new employees.
And many of them do automate tracking of important steps for new employees: Benefits paperwork – check. I-9 – check. Computer log-in – check. Meet with HR – check. Manager takes the new employee to lunch – check. The system then churns out a report to the HR department on what percentage of people made it through which steps, and which boxes were checked and the average days between steps and checks.
All of this automation and efficiency can be a beautiful thing! The steps a system can track—compliance—are important. But even the most advanced software cannot –at least not yet—implement an onboarding strategy that accelerates the time to productivity and produces better results faster.
As we've written about before, TPO's Onboarding Productivity Measurement Toolkit combines a data-driven approach with the high-touch engagement needed to accurately determine whether a new employee's productivity is increasing as expected–or identify whether a bad hire has been made.
If all you need is compliance—an "HR system that onboards employees" is perfect. If what you want is to accelerate the time to productivity and increase employee engagement, you have to commit to the process—and that doesn't happen with a robot.