Interview with Karen Usher, Founder and Chair, TPO, Inc., Regarding TPO's 20th Birthday (Part 1 of 2)
January 16th, 2014
Written by: Admin
This is the first in a yearlong retrospective blog series commemorating TPO@20!–TPO's 20th Birthday. These interviews with TPO partners, clients and employees focus on what has and hasn't changed in "how we work" over the last two decades–and what we can learn for the next 20 years.
TPO: Hi, Karen! As the Founder and Chair of TPO, you must be very excited about the company's 20th Birthday.
Karen Usher: Greetings. Actually I didn't realize it had been almost 20 years. The credit goes to our CEO, Dana Papke, who noticed on LinkedIn that I was celebrating my 19th anniversary with TPO and came up with the idea for commemorating the 20th. She has a much better sense of these things than I do. My reaction to hearing we'd been in business for 20 years was that it makes me feel old.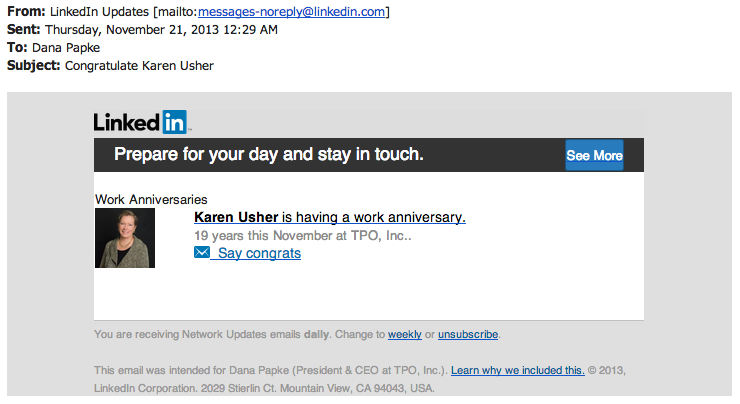 TPO: Ha! OK, Dana gets the credit. Let's dive in. How did the idea for TPO come up?
Karen Usher: My dad was a senior HR guy at the Washington Post, and he got laid off around the time I arrived in DC in 1981. He did some consulting, so I worked with him for about two years until he got his next job.
After that, I did some of the same kind of projects TPO's consultants do today–training and professional development, HR audits, compliance, incident investigations, HR due diligence, policy development, employee handbooks, etc–and for some of the same kind of clients. And what I found was that while I was doing a project such as a policy manual, I got asked a lot of other HR questions. Sometimes quick questions, sometimes about big issues like how to improve retention. There always seemed to be more to do, and there was almost never a situation where I did a single project and left. These were companies that didn't have an HR director, so the questions–and the consulting work–gravitated towards the person who had the expertise.
TPO: And it struck you that this type of need would be widespread.
Karen: Yes.
TPO: What was your background that led you to focus on HR in the first place?
Karen Usher: I actually had an understanding of management development from when I was a little kid because my entire family was involved in HR. My Dad was a forerunner in HR, co-creator of the management development program at General Electric, which sounds so 20 years ago as it's now GE. Mom was the placement director at Dayton Law School–"placement" is another term you don't hear in 2014. When we moved to DC for my Dad's job at the Post, my Mom took a position in Presidential Personnel in the Reagan White House, and then became HR Director for Household Finance before being named CEO of their relocation division.
TPO: Boy, you really did grow up in an HR- and management-oriented household.
Karen: Well, there's more. My brother started in HR at Marriott, which has always had an aggressive career program. His division was sold to Sodexho and he is now an EVP there focused on quality, strategic planning and acquisitions.
TPO: So you gravitated towards HR.
Karen: Yes, and that's where my connections were. In the summers my Dad would call an HR buddy who would give me an HR summer job. The last summer job before I graduated college was with a light manufacturing company in Ohio that was about to do a major compensation program with Hay Associates–a well-known comp firm. They needed someone on the team to corral all the job descriptions, get meetings set up, and manage their new job evaluation process. So that's what I did.
There weren't HR training programs back then, so it was hard to find a job in HR after graduation. The personnel office at Dartmouth College was looking for a compensation person, so I became their job analyst. So there are two big changes from back in the day right there–no HR training programs and they called it "the personnel office." Which became an important phrase in TPO's history–we can talk about that later.
I then got a job with a technology company in New Hampshire. At that point, I began realizing I might want to try working on my own–just my personality type. And that's when I started consulting with dad when he was between jobs.
TPO: How did you formulate a philosophy that would make TPO distinctive and successful?
Karen: TPO's philosophy really goes back to my parents and their history in HR. For them, the HR stuff–the day-to-day tactics–were important, but it was never just about tactics. It was always about doing the right thing for the business–making people-related decisions in a holistic sense by tying them to the business drivers, not operating or implementing in a vacuum. I adopted that as TPO's mantra early on, and we got a reputation for keeping an eye on the business underpinning that exists to this date.
TPO: So some things never change.
Karen: Well, our philosophy didn't change because we didn't let it change–we worked hard at it. But there's plenty that has changed since 1994.
TPO: Sounds like an interesting topic for our next interview.
Karen: It's a date.