Karen Usher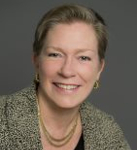 Founder & Chairman
Karen Usher is the Founder and Chairman of TPO, Inc. She leads the firm's strategic planning efforts and is practice leader for TPO's succession planning services.
Karen has people leadership in her blood. She comes from a long line of HR visionaries (mother, father and brother—imagine the dinner table!), all of whom have moved out into executive leadership roles. She combines change management, HR leadership and entrepreneurship, having founded her first of three companies in 1981. Her unique forte is working with chief executives to help them successfully blend their natural, deep-seated drive with the rigors of running a successful business. "Helping to change and grow companies by growing and developing the workforce and the leadership team is the hardest work any business ever undertakes."
Karen has worked with hundreds of executive teams to help them improve their leadership and achieve their business goals through the people they employ. She has helped leadership teams formulate their people strategies at companies like Futron Corporation and IEEE. She's worked to help bring about successful company sales at organizations including Trusted Information Systems, OTG Software, The Richards Corporation, and Fieldston. And where mission can be achieved only through the successful and united efforts of people, she has helped organizations—such as The Wilderness Society, Friends of the Earth and the National Association for Music Education—touch thousands of lives.
Off-Duty…
In her spare time, Karen manages an acre of gardens, keeps company with her husband, a son and a very amusing dog, and always has an eye open for interesting fishing expeditions, particularly to the Everglades. She is an ardent environmentalist, recycles 90% of her household waste, and sources 85% of her family's food from within 5 miles of her house.