Sue Claytor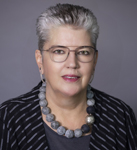 Professional Experience
Sue Claytor began consulting for TPO, Inc. in 2005 with a foundation of over 20 years of previous HR experience. Her work at TPO has involved assignments with both private sector and non-profit clients. Highlights include implementing management training and performance management programs at several clients, decreasing turnover at a major client by handling the recruiting directly and training managers in interviewing and hiring, and conducting a major workforce redesign project resulting in increased employee performance.
In 2010, Sue was promoted to a Director with TPO and became responsible for recruiting, onboarding of new consultants, consultant staff development, and quality assurance for outsourcing and consulting service delivery.
In 2012, Sue was promoted to Vice President Client Services. In 2017, Sue became a Managing Director with TPO.
Sue began her business and human resources career with Lillick, McHose and Charles, LLC in Washington, D.C. Her early work with Lillick, McHose and Charles included Paralegal, Office Management and Human Resources.
In 1984, Sue became Vice President of Human Resources at the Lanman Companies, Inc. where she was responsible for all aspects of corporate Human Resources at five major East Coast locations. Prior to an acquisition by World Color Press in 1995, Sue established the first HR department for this company and was responsible for all facets of human resources including the development of practices and policies, benefits and compensation management, training and labor/employee relations. She also participated in strategic planning and due diligence for acquisition projects.
After being acquired by World Color Press, Inc., Sue was appointed Regional Vice President of HR in Greenwich CT. In this assignment she oversaw all aspects of HR including management of other human resource managers in ten locations. She also established new acquisition policies and criteria for selection policy for plant closings and downsizing and created and chaired the company's first ever acquisition team.
In 2000, Sue began consulting with Prinexus, Inc., a new marketing solutions company. Here, she was responsible for conducting due diligence of potential acquisitions. In June of 2002, she was hired as the Vice President of HR at Prinexus, responsible for all aspects of HR for the company. Key accomplishments during her tenure here included the development of corporate management training programs, negotiation and implementation of new health insurance and 401K programs for five locations and successful handling of EEOC lawsuits through mediation.
In 2004 just before joining TPO, Sue returned to consulting by providing executive HR support to various clients in the Washington, D.C. metropolitan area.
Sue received her A.A. in fine arts, from Steed College and attended East Tennessee State University.