TPO Consultant Spotlight: Claire M. Burns
March 18th, 2014
Written by: Admin
Meet Claire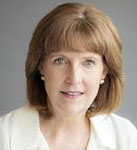 Deep down, Claire Burns is an investigator. And when your organization needs an in-depth analysis of how your business and human capital practices are working together, you want her on the case. "I consider it my job to learn about my clients' business and figure out what I can do from my standpoint to support their larger goals," she says. Claire has been a valued TPO consultant since 2010. She works with association groups, non-profit organizations and privately held companies on a range of activities, including reorganizations, employee communications strategies, succession planning, management team performance and recruiting effectiveness.
A Pioneer in Bridging Business and People Priorities
Claire was embracing TPO's unique business-driven approach long before she even joined the firm. "I was fortunate to begin my career at a forward-thinking telecom start-up whose leaders wanted HR to be an engaged partner in the business side of the organization," she says. "That was a pretty rare occurrence in the early 1990s when most companies viewed HR practitioners merely as paper pushers." Claire had an inspiring mentor who taught her to approach her job by identifying business challenges first, and that mindset has served her well throughout her career. It also makes her a perfect fit for TPO.
Coach Claire
One of Claire's passions is executive and management coaching. She is certified by the Center for Creative Leadership, a global provider of executive leadership education, and she frequently works with execs and managers one-on-one. "In so many organizations, employees rise through the ranks to become managers—but that doesn't necessarily mean they arrive in their positions with tested management experience," says Claire. "So I enjoy coaching managers and CEOs on ways to develop and maximize their leadership potential." However, top-level managers aren't always the answer. One of Claire's recent clients wanted to replace an exiting director with another director-level hire. But recognizing how top-heavy the organization had become, she convinced the client to modify the position for a mid-level manager instead. "It was a strategic solution that I was happy to help them unlock," said Claire.
Why She Loves TPO
In addition to fulfillment and flexibility, Claire says that her TPO engagements allow her to "do a little bit of everything." She is fascinated by the varying business models maintained by different organizations and enjoys the challenge of learning why her clients do things the way they do—and how she can help them perform even better.
Exceeding Expectations
Claire's clients appreciate her expertise, her listening skills and her general curiosity about their business objectives. They've also come to expect that Claire will exceed their expectations. Recently, when one of Claire's clients was bringing on a new hire—something they hadn't done in over a year—she delighted them by creating a comprehensive orientation process to guide both management and the new hire. Complete with application paperwork, new hire checklists and other logistical details, the company has standardized Claire's process and plans to use it for all of its new hires moving forward.
Pursuits
Outside of work you'll find Claire spending time with her large extended family and friends. As an animal lover, Claire has two Maine Coon cats and volunteers for the Alexandria Animal Welfare League. "I love my job, but after focusing on people all day, I really enjoy working with animals—which are generally more predictable than people!" she says. Claire also enjoys traveling to new places and has her sights set on a future trip to Greece and Turkey.